There are a lot of ways you can get to Bandon Dunes, none of which are easy, fast or convenient. Unless you live in Bandon, it's going to take you the better part of an entire day to get there.
Don't be discouraged; the journey IS worth it. Below, I outline all your options for getting there, share a few important things to keep in mind, and breakdown the best travel options from many US cities.
The Options
To get to Bandon Dunes Golf Resort, you can….
Drive
Fly to North Bend (next to Coos Bay), about 45 minutes from Bandon
Fly to Eugene, about 2 hours and 45 minutes from Bandon
Fly to Medford, about 3 hours from Bandon
Fly to Portland, about 4 hours and 30 minutes from Bandon
Fly to Redmond, about 5 hours from Portland
Take Amtrak to Eugene, and then drive the 2 hours 45 minutes to Bandon
Your best option depends on where you're coming from and what you want to do.
What's your Plan?
Do you plan on exclusively playing at Bandon and staying on-site? North Bend, even with it's limited flight options, becomes a very attractive option. Most on this further down.
Do you want to play other courses on your trip? Even without the courses at Bandon Dunes, Oregon would have one of the finest lineups of publicly accessible golf courses in the nation.
If you want to play other good courses, consider flying into Portland. The drive in longer but you'll be able to tap into that metro's rich golfing options (check out Pumpkin Ridge, Elk Ridge, Heron Lakes, The Reserve, and more). Plus, the ride to Bandon will bring you within range of other worthwhile courses, such as Florence and Salishan.
If you want to play other great courses, fly to Redmond. This brings you to Bend, surely one of America's finest golfing cities with world class options like Crosswater, Pronghorn, Tetherow, Brasada Ranch, and more.
Airline Options by Airport
There are several airports within driving distance of Bandon Dunes. Most them are small and all but one are several hours away (or more…). All but one will have limited flight (and potentially ground transportation) options. Here are your options.

Southwest Oregon Regional Airport – North Bend, Oregon

North Bend (which is next to Coos Bay and nowhere near Bend, OR) is only served by United. The only direct flights to North Bend depart from San Francisco and Denver. But the Denver flights are only on Sundays and Wednesdays from June 9 through October 2. So unless you're coming from those cities, you're going to have a connecting flight. If you're traveling with clubs, this can significantly up the odds of your luggage getting lost (which clearly is not ideal). More thoughts on this in the next section.
Also worth knowing is the rental car situation. North Bend is a tiny airport and is only served by Hertz. There is no Uber or Lyft, however there are private vans that make the trip between North Bend and Bandon. Check out Connoisseurs Golf Transport or Aviation Transportation.
Eugene Airport – Eugene, Oregon

Though larger than North Bend, Eugene is small a small airport by most standards. However, you do have more flight options. Here are the airlines that serve Eugene and where from.
Alaska: Portland, Seattle
Allegiant: Oakland, Los Angeles
American: Phoenix, Los Angeles
Delta: Seattle, Salt Lake City
United: San Francisco, Denver
You also have more in-terminal car rental options at Eugene: Alamo, Avis, Budget, Enterprise, Hertz, National.
Rogue Valley International-Medford Airport – Medford, Oregon
Similar to Eugene, Medford has more options, particularly if you're flying from the West Coast.
Alaska: Seattle, Portland
Allegiant: Los Angeles, Las Vegas
American: Los Angeles, Phoenix
Delta: Seattle, Salt Lake City
United: Denver, San Francisco
And the in-terminal car rental options: Alamo, Budget, Enterprise, Hertz, National.
Redmond Municipal Airport – Redmond, Oregon
Another smallish airport, Redmond only makes sense if you play on playing in Bend as well. They have daily direct flights from Seattle, Portland, San Francisco, Phoenix, Salt Lake City and Denver.

Portland International Airport – Portland, Oregon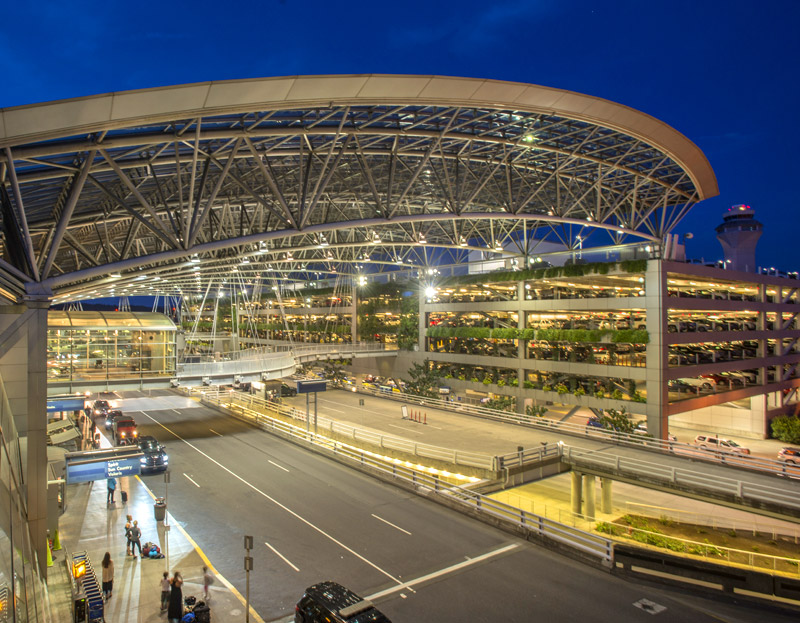 I'm partial on this one – Portland is my home airport – but PDX is a great option, despite its distance from Bandon. It's repeatedly been recognized as the best airport in the country. Not because its flashy or showy, but because it's well-run, pleasant and easy to use.
To me, it's home to the only reliably pleasant TSA agents in the country, and security lines are never long. The food options are great (appropriate for Portland), and the airport mandates all vendors charge the same price at the airport as they do outside; you're not going to get gouged.
Portland's also a truly wonderful city (I live there for a reason) and while the drive to Bandon is long, it's easy and downright breathtaking at times.
More importantly: you have a ton of direct flight and car rental options. If you're flight from North Bend is cancelled, you have a situation to deal with. If your flight from PDX is cancelled, you're almost certainly going to have options.
Okay, that's the end of my pitch for PDX.
Check yourself before you wreck your…trip
Let's talk about checked baggage — specifically golf clubs.
Whenever possible, I like to travel with my golf clubs. It's almost always considerably cheaper and it prevents you from having to adjust to new and different clubs at every course. While airlines have a reputation for rough handling of bags, your clubs will almost certainly arrive there in fine condition if packed well.
What I do not like to do is fly with clubs when I have to transfer planes. Especially when I'm changing airlines. I don't have data to support this, but I just don't trust two airlines to reliably coordinate my oversized luggage.
When I travel for golf, my strategy is always to minimize the amount of things that could go wrong and disrupt my trip. If my clubs go missing, all of a sudden I'm spending a lot of time dealing with airlines and scrambling for replacement clubs instead of playing golf. When you have a tightly scripted golf trip full of expensive or hard to get tee times, this can be a real disaster.
So how can you minimize the potential of waylaid clubs? You can only take direct flights — much easier if you're flying into Portland — or you can send your clubs ahead of you via ShipSticks.
If you're not familiar with ShipSticks, you would do well to check them out. They're not cheap but if you send your clubs about a week in advance, they're not vastly more expensive than checking your clubs with an airline. And don't underrate how much of a pain lugging your clubs around an airport, to your rental and to your hotel can be. So if you have the means, ShipSticks can be a great option. And using them frees you take potentially cheaper and/or more convenient non-direct flights (to North Bend, for instance) without having to worry about your clubs.
The case for driving
Assuming it takes a similar amount of time, driving is the preferable way to get to Bandon. It's almost always cheaper. You have more control and flexibility, both on the journey itself (you can't really pull a plane over for an interesting detour) and at your destination. And it's generally less stressful — does anybody really want to stand in long lines, be at the mercy of TSA agents and then cram oneself into a tiny seat with no legroom?
So, who is close enough where driving is a better way to Bandon?
Well, if you're in Oregon, just drive. It's your best option.
If you're in Washington, I'd lean towards driving unless you're coming from Spokane area (even then, I'd probably want to drive). From Seattle, it'll take 7 to 7 and a half hours to get to Bandon (flying, collecting your bags, renting a car, getting to the actual resort) flying to North Bend or to Eugene. Driving it'll take just over seven hours. So, I'd rather just drive.
For Northern Californians, driving is going to be superior almost all the way down to Sacramento. It really depends on how easy it is for you to get to the San Francisco Airport with its direct flight to North Bend.
If you're coming from even further afield, driving can still be an option if you want to play additional courses en route to Bandon.
City-by-City Breakdown
I've went through and looked at the best destination airport options — North Bend, Eugene, Medford, or Portland — for many major metropolitan areas.
These calculations are all estimates — more on my assumptions in a moment — but I wanted to know if there a particular airport that's vastly more convenient than the others. You never know if the flights line up particularly well (or if the connections are hell) for one option or another.
I used kiwi.com, a great flight planning tools for these estimates. Remember — these are just estimates; back of the napkin sketches, if you will. I only looked at June, when United's Denver to North Bend flight was an option. Traveling other times of the year may mean different flight availability.
For the time estimates, I assumed you'll want to get to the airport about 90 minutes early (enough time to assure no issues with dropping your bags or clubs off, checking in, and security.
After landing, I assumed 30 minutes to deplane & collect your bags — but be aware, sometimes oversized luggage (like golf clubs) can take longer than that.
After collecting bags, I built in another 30 minutes to get to the rental counter and collect your car. Depending on the airport, this can take less or a lot more time.
Finally, I added it a slightly conservative estimate for driving to the course the airport.
For people flying to North Bend and then taking a shuttle, I didn't adjust the estimate. I assumed that after collecting your bags, it'll still take a little while for everybody to find their way to the van transportation and then to depart.
Also — don't forget — these travel times do not include how long it takes you to get to the departing airport. Take those into account as well.
Time to Bandon from each city via each airport is presented as XhYm; 9h30m means 9 hours and 30 minutes. And again, actual times will likely vary a bit. This is just an estimate.
So, how how do the travel times look? And what is best?
| City | North Bend | Eugene | Medford | Portland |
| --- | --- | --- | --- | --- |
| New York City | 9h15m | 10h50m | 11h | 10h15m |
| Los Angeles | 5h25m | 5h | 5h | 6h30m |
| Chicago | 7h30m | 7h30m | 8h45m | 8h45m |
| Houston | 7h15m | 9h | 9h | 8h45m |
| Phoenix | 7h | 5h15m | 5h30m | 7h |
| Philadelphia | 9h15m | 10h45m | 11h15m | 10h30m |
| San Antonio | 8h | 8h45m | 8h45m | 8h30m |
| San Diego | 5h | 5h | 7h | 6h45m |
| Dallas | 7h | 8h | 8h30m | 8h30m |
| Austin | 7h | 8h15m | 8h30m | 8h45m |
| Jacksonville | 9h | 10h15m | 10h45m | 11h30m |
| Columbus, OH | 8h15m | 10h | 9h45m | 10h45m |
| Indianapolis | 8h45m | 9h30m | 9h45m | 10h30m |
| Charlotte | 9h | 10h | 10h15m | 10h |
| Denver | 4h | 5h30m | 5h45m | 6h45m |
| Washington D.C. | 8h30m | 10h30m | 10h30m | 10h15m |
| Boston | 11h | 10h45m | 11h | 10h45m |
| Detroit | 8h30m | 9h15m | 9h30m | 9h |
| Nashville | 8h | 9h | 9h45m | 9h15m |
| Oklahoma City | 6h15m | 8h15m | 8h30m | 9h30m |
| Las Vegas | 5h | 5h | 5h | 6h45m |
| Atlanta | 8h30m | 9h30m | 9h45m | 9h30m |
| New Orleans | 7h45m | 9h | 9h45m | 10h45m |
| Cleveland | 8h30m | 9h45m | 9h45m | 11h |
| St. Louis | 7h30m | 8h45m | 9h | 8h30m |
| Minneapolis | 7h15m | 8h15m | 8h30m | 8h |